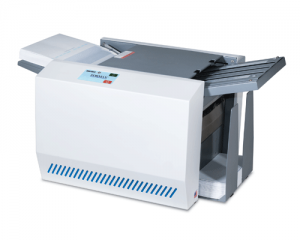 The FD 1506 AutoSeal® offers a user-friendly mid-volume solution for processing one-piece pressure sensitive mailers. Its color
touchscreen control panel uses internationally-recognized symbols in place of text, making it easy for anyone to use, and with a
speed of up to 100 forms per minute and the ability to process forms up to 14" in length, the FD 1506 enables operators to complete
daily processing jobs with ease.
Standard features include fold plates that are easy to set and adjust, and drop-in top feed system, all in a compact and sleek desktop
design. Fold plates are pre-marked for standard folds for 11" and 14" form sizes, and can be easily adjusted for custom folds. Fold types
include Z, C, Uneven Z and C, Half and custom folds.