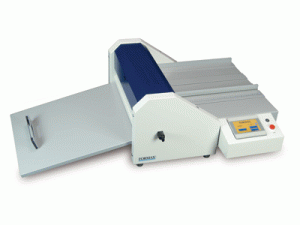 The FD 230 Semi-Automatic Electric Creaser/Perforator is specially designed for finishing printed materials. The creasing function prevents cracking of toner-based digital prints and ensures a clean, professional fold. The perforating function allows for easy separation of multiple printouts, tear-offs, postcards or tickets on a single sheet.
User-friendly features include a touchscreen control panel, multiple creasing widths to accommodate various paper weights, and up to five programmable jobs for custom projects. The FD 230 automatically measures paper and sets the crease measurements based on the selected number of folds and is pre-set with five standard folds: Half, C-fold, Z-fold, Gate Fold and Book Cover. It has the capacity to crease laminated documents with ease, while the optional micro-perforating knife offers even greater flexibility for a wide range of projects.
The FD 230 is ideal for small print shops, on-demand and in-plant operations finishing  applications including greeting cards, postcards, brochures, invitations, book covers, tickets and more.