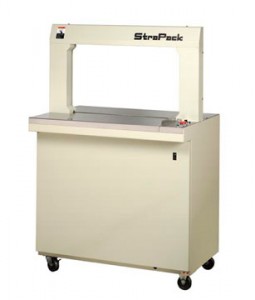 The RQ-8IR2 is compact, with the coil located inside the machine. It takes up the space of a string tyer. The RQ-8IR2 is designed for graphic arts, magazine and newspaper distribution and the direct mail industry. It runs inexpensive 5mm, 6mm or 9mm strapping.
Mail flats easily fit into the 650mm (27″) wide by 400mm (16″) high arch. The angled sides of the RQ-8IR2 arch support the sides of mail trays during strapping.
With the addition of a programmable photocell, the operator is free to use both hands on the package and can apply one or two straps without using a hand switch or foot pedal.