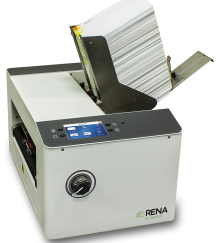 Key Features

– Fixed head technology with four cartridges for 2″ of print height
– 22,000 No. 10 envelopes/hr
– 30,000 postcards/hr
– Fixed Thickness
– Clutch-Control Integrated Feeder
– High Speed USB 3.0 Port

The AS-450 is an entry-level monochrome printer designed to print text and barcodes on materials such as envelopes and postcards. The printer has a user-friendly touch screen, is easy to set up and features four print qualities from 150 to 600 dpi.