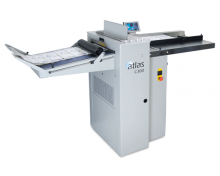 High Speed Automatic Creasers
Creasing for a Better Fold
In today's print world, on-demand digital printing has become the
standard for fast turn-around and short run jobs. Finishing the piece
properly for a professional, high-quality look is a key part of the process. When it comes to folding digitally printed pieces, creasing
is essential to avoid cracking and tearing on the folded edges.
The Formax Atlas line offers three solutions for producing the best
quality presentation: the Atlas C100 and Atlas C200 Automatic
High-Speed Creasers and the Atlas C300 Automatic Creaser/Folder.