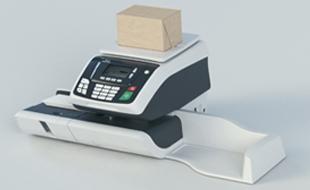 The iX-3 Series postage machine is an ideal solution for small businesses seeking to process their outgoing mail and packages more efficiently. Its professional metering system makes it simple for you to weigh, meter and send your mail.
Would you like your customer communications to enable you to stay one step ahead of the competition? The iX-3 Series postage machine can help you achieve this, both reliably and effortlessly. 
Simple to use
The iX-3 has an intuitive and user-friendly control panel. Easy to use prompts and shortcut keys make navigation a breeze.
Manage, track and control
With 50 standard accounts/departments, the iX-3 offers the capability to chargeback and recoup postage costs when using Neostats Enhanced reporting. Track details and create spreadsheets and colorful graphs by postal class, account/department/operator and more!
Stay Compliant
Ensure compliance with an Intelligent Mail® Indicia (IMI). These new meters meet the latest USPS requirements for data and security management.
Promote your brand
Print a logo or marketing message on your envelopes and give them a more professional look with Neoslogan. Select from a library of over 100 images or create your own in minutes. The iX-3 can store up to 10 images with the click of a button.