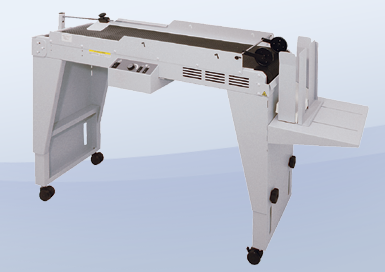 The Secap SC 48 conveyor features bi-directional functionality and two high capacity vacuum fans that stabilize material on the conveyor. This helps control the registration and transport of difficult media. In addition, the unique design and flexible features provide:
Adjustable drop stacking tray for convenient and hands-free stacking
Handles media from 3" x 5" cards up to envelopes 10" x 13" in size
Variable speed control for handling different types of media
Wide, perforated belt for the smooth transport of material
Built-in interface for optional dryer
Professional mailers, lettershops, fulfillment houses, in-plant printers, and those who require a professional approach to speeding the drying process while retaining print quality can all utilize the great features and options of the SC48. The SC48's simple design offers easy operator set-up and low maintenance.
Add the TD 36 Dryer for optimum print quality and faster dryer times!
Technical Specifications
Speed:
Adjustable 16 to 350 feet per minute
Media Size:
Maximum: 10" x 13"
Minimum: 3" x 5"
Fans:
2 high output vacuum fans
Controls:
Individual on/off switch for each fan
Variable dial for controlling belt speed
On/off power switch
Belt:
Wide format design providing smooth transport
Perforated for through the belt vacuum
Interface:
Built-in interface for optional dryer
Physical Characteristics:
Chassis: 12.25"W x 35.13"L x 3.25"H
Drop Tray: 12.25"W x 12"L x 8.25"H
Weight: 130 lbs. (with stand)
Power:
120VAC., 50/60 Hz.
Option:
TD 36 Dryer