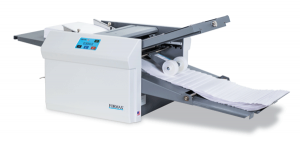 Formax introduces the FD 346, which replaces the discontinued FD 342, featuring a brand-new color touchscreen for convenience and increased productivity. The touchscreen features  internationally-recognized symbols in place of text, making it quick and easy for anyone to use with little to no training.
The FD 346 is a fast and dependable solution for a variety of applications, folding up to 15,500 sheets per hour, in sizes up to 12″ x 18″. Simply load up to 500 sheets in the hopper, select the fold, and press start. Once the job is finished, the patented telescoping conveyor system holds up to 500 finished pieces.
For easy batch processing, users can select the Formax AutoBatch program. Simply input a specific number of sets, sheets per set and delay between sets, and the FD 346 will take care of the rest.
Six popular folds are clearly marked on the fold plates, for quick and easy set-up and operation with fine-tuning knobs for precise adjustments.
The optional multi-sheet feeder allows users to fold up to 4 stapled or unstapled sheets at once through a dedicated feed system.
Forget the days of hand-folding documents, and let the new Formax FD 346 do all the hard work, while you get more important things done.
Key Features:
Color touch screen with graphics-based input
Folds up to 15,500 sheets/hour
Handles paper up to 12″ x 18″
Made in the USA
Telescoping conveyor system
AutoBatch programming
Adjustable stacker wheels
Optional multi-sheet feeder
Featured Highlights

Speed: Up to 15,500 pieces/hr
Telescoping Output Stacker
Pre-set fold settings

Recommended Options

Fold up to four stapled or unstapled sheets at the same time with the Multi-Sheet Feeder
Locking cabinet with casters for convenient storing of forms
Automatically square and align forms with a 402 series Jogger