Professional Grade Inkjet Console System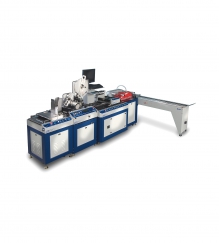 Key Features
– Heavy Duty Construction
– 34,000 Per Hour
– Integrated Productivity Accessories
– 3″ or 4″ of Available Print
– Exclusive AccuTrak Vacuum Transport
– See a close-up of base
Introducing the new inkjet console system from RENA Systems. We completely revamped our professional grade line to offer RENA Systems owners the absolute best upgrade option. The XPS-ProMail System is not a machine-shop approach. It was engineered and designed from the ground up as a high performance inkjet printer – and it shows. The XPS-ProMail System and its accessories are made from steel and aluminum with a duty cycle of 240 million pieces. Best of all, it's precision engineered and built right here in the USA.
Print Technology
Thermal Inkjet, Six or Eight HP 45A-Style High Capacity Cartridges
Address Speed

   34,000 /hour at 150 dpi
25,000 /hour at 200 dpi
20,000 /hour at 300 dpi
11,500 /hour at 600 dpi


     (9 Lines on 4"x6" Postcard)

26,000 /hour at 150 dpi
19,000 /hour at 200 dpi
15,000 /hour at 300 dpi
7,200 /hour at 600 dpi


(9 Lines on #10 Envelopes)

Print Quality (Dots Per Inch)

| | | |
| --- | --- | --- |
|    Description | Dots Per Inch | Resolution |
|    High Quality | 600 d.p.i. | 600 x 600 dpi |
|    Letter Quality | 300 d.p.i. | 600 x 300 dpi |
|    Standard Quality | 200 d.p.i. | 600 x 200 dpi |
|    Hi-Speed Quality | 150 d.p.i. | 600 x 150 dpi |

Image Area
3" or 4″ X 17" w/ 12" Vertical Range
Print Head Split
3 Pen Stitched + 2 Pen Stitched (+ 2 Pen Stitched w/ 4.0) + 1 Pen Design
Processor
AMD TigerSharc 100 MHz DSP with Dual Calculation Technology
Memory
64 MB RAM
Fonts
All TrueType fonts available on PC
Print Orientation
Normal and Reverse
Counters
One operator resettable job counter, one permanent lifetime counter
Ink Monitor
Visible on Display
Prints
Allows printing of graphics, logos, and barcodes
Material Size
Minimum (W x L):  3″ x 5″
Maximum (W x L):  13.5" x 17"
Material Thickness
Up to 1-1/4"
Feeder-Capacity
Feeder Dependent
Software
WindowsTM Printer Drivers for WindowsTM 98,
2000, NT, ME, and XP
PC Interface
Parallel and USB 2.0
Diagnostics
Resident in firmware
Firmware Update
Flash PROM update
Duty Cycle
240 million addresses total or 4,000,000 per month over a 5-year life cycle
Dimensions
11" H x 14" W x 28" D
Weight
75 lbs (printer only)
Electrical
115VAC or 240VAC 50/60 Hz
Options
Conveyor/Stacker/Dryer, Drop Tray